All dogs can learn new tricks!
Dog Ventures offers professional dog training in Riverdale, specializing in puppy & adolescent dog training. Our pet instructors are certified practitioners that thrive on developing the bond between both ends of the leash. All of our training is free from the use of fright, injury, or intimidation so that dogs can enjoy the learning experience and develop their skills.
Click the links below for class details and more info about our Puppy Bowl & Puppy School.
Class Details | Puppy Bowl & Puppy School
Dog training at Mike's Feed Farm is conducted in our store by Norine Twaddell at DogVentures Dog Training.
Visit the DogVentures website to book your training classes today!

Puppy Training
Young puppy socialization classes provide a secure & organized means of mingling young puppies and quickly improve their responsiveness to requests. Early and ample pup socialization and programs of positive pet training can go a long way to stop behaviors & boost bonding between humans as well as pets. While the initial 3 months is one of the most essential pup socializing period in a pup's life, proprietors of young puppies that have passed this landmark are strongly motivated to continue to mingle their young puppies to as many people, pet dogs, and areas as practical.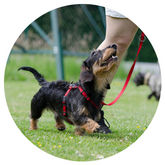 Beginner Training
Beginner training for pets is important. Pet dogs intend to please, so with these beginner approaches and also strategies, they will certainly offer your dog's possibilities to make you satisfied. Our training courses begin with the conventional sit, stay and come. Yet as your pet advances, we provide extra tough requests that are supplied in our other courses! These are developed to maintain your dog engaged and also on their toes.


Behavior Modification
Here at Mike's Feed Farm, we concentrate on dog behavior modification. Canine behavior modification is where we alter existing dog actions. This includes however is not restricted to training in or modifying chain decorum, chewing, dog resource securing, barking, splitting up stress and anxiety, chain lunging, leash aggressiveness, dog-on-dog aggressiveness, as well as dog to human hostility.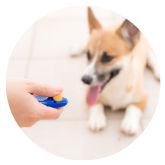 Clicker Training
We offer clicker training! Clicker training, or markand reward, is a kind of favorable reinforcement pet dog training. The clicker or marker communicates the specific minute your pet does what you want. The timing of the click is necessary and also every click should be followed by a benefit. This is an excellent form of positive reinfocement for your pup!


House Breaking & Potty Training
House training your puppy has to do with uniformity, perseverance, as well as positive support. The goal is to impart great routines as well as develop a loving bond with your family pet.
Experts recommend that you begin house training your young puppy when they are in between 12 weeks and 16 weeks old. Then, they have adequate control of their bladder and bowel movements to learn to hold it. With Mike's Feed Farm's expertise, we offer you the tools and also strategies to ideal home train your new furever friend.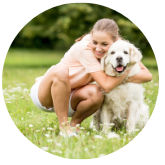 Positive Reinforcement
Mike's Feed Farm training program uses ONLY positive reinforcement pet training methods. Some pet training firms that offer "Board and train" will do whatever it requires to obtain fast outcomes with your pet dog including using choke chains and also shock collars. Mike's Feed Farm does NOT employ any kind of kind of aversive dog training techniques on your dog unless especially asked for by you and concurred by us in advance.

Come visit our pet feed & supply store in Riverdale, NJ specializing in quality food, treats, and supplies for cats, dogs, poultry, livestock & more!